Raw Gorilla zesty orange chocolate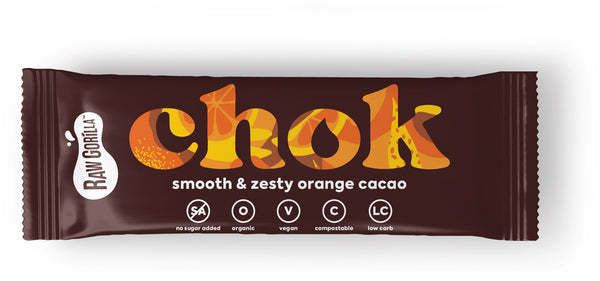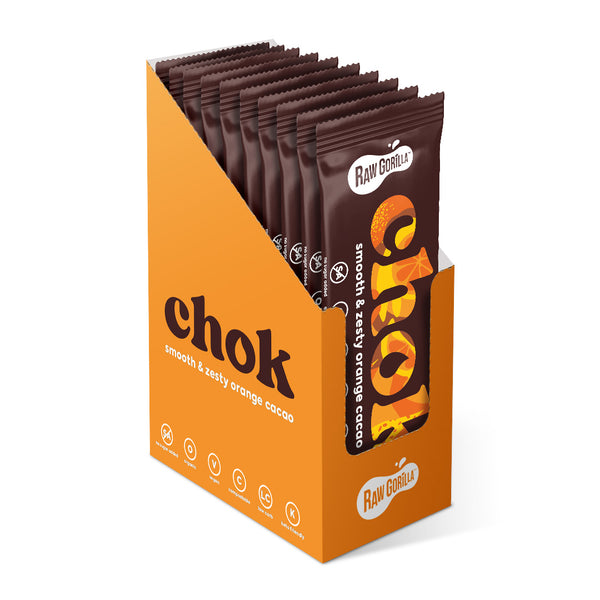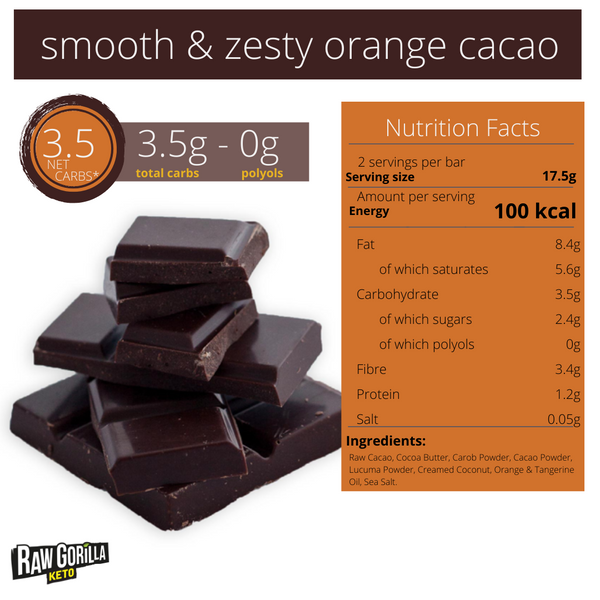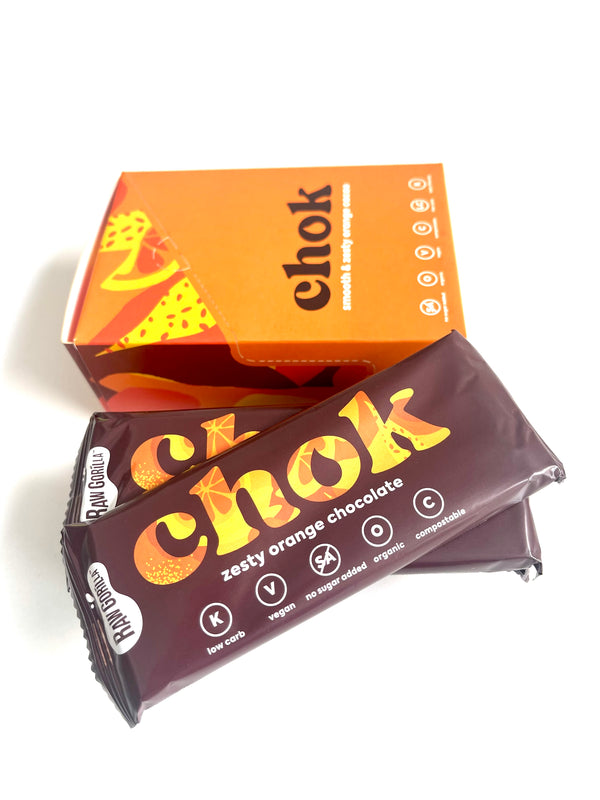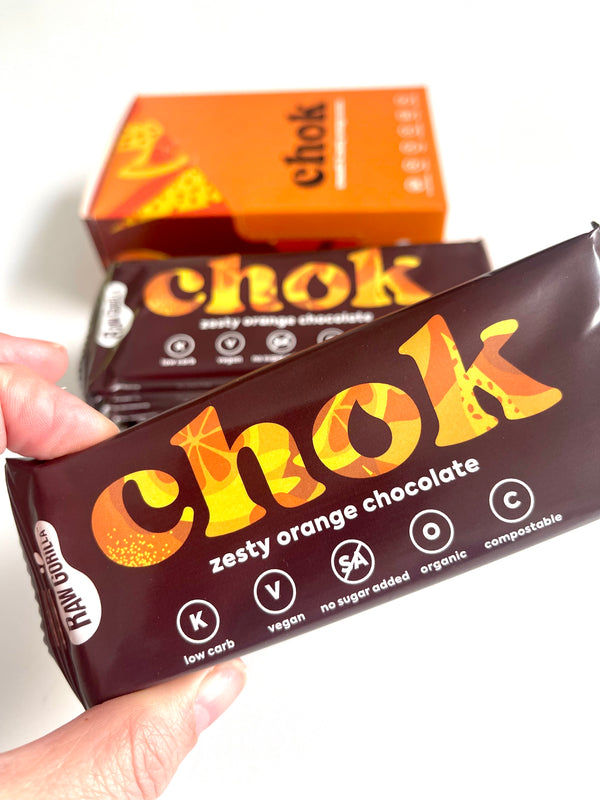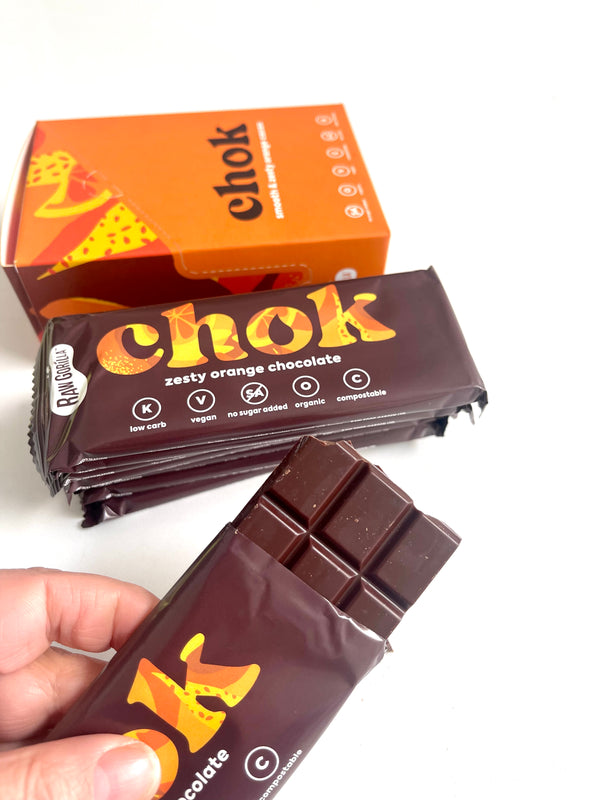 zesty orange
A Keto no-sugar-added smooth & zesty orange chocolate. Made with the finest raw Peruvian Cacao, Mediterranean Carob & sweetened with a dash of Lucuma.
Special offer ! buy 3 cases of orange chocolate (30 bars) for the price of two! 
The more you buy the more you save!  Spend over £35.00 and get free shipping.
For under £35 spend its a flat rate of £5.99
Vegan | Organic | Keto Friendly | Low Carb | No Sugar Added
Chok is the food of love…
What we eat affects our happiness & wellbeing. We believe it's important to eat 100% natural & unprocessed foods, with B corp ethically sourced ingredients. No refined sugars or artificial sweeteners added, just real food, packaged in a plastic free & compostable wrapper. 
Live consciously, Eat consciously, be more Gorilla.
(GB) Raw Cacao, Cocoa Butter, Carob Powder, Lucuma Powder, Creamed Coconut, Orange and Tangerine Oil, *Sea Salt. Contains naturally occuring sugars. Cacao solids 59% minimum. *Permitted non-organic ingredients.
(AR)
الكاكاو الخام ، زبدة الكاكاو ، مسحوق الخروب ، مسحوق لو كوما ، كريمة جوز الهند ،زيت البرتقال واليوسفي , *ملح البحر. يحتوي على سكريات طبيعية. الكاكاو الصلبة 59 ٪ كحد أدنى.* المكونات غير العضوية المسموح بها. صنع في مصنع يعالج المكسرات. يُحفظ في مكان بارد ومظلم ودرجة 16-23.
(GR) Ακατέργαστο κακάο, βούτυρο κακάο, σκόνη χαρουπιών, σκόνη Lucuma, Kρέμα καρύδας, λάδι πορτοκαλιού και μανταρίνι, *Θαλασσινό αλάτι. Περιέχει φυσικά σάκχαρα. Στερεά κακάο 59% ελάχιστο. *επιτρεπόμενα μη οργανικά συστατικά. Φτιαγμένο σε εργοστάσιο που χειρίζεται ξηρούς καρπούς. Φυλάσσεται σε δροσερό, σκοτεινό μέρος, 16-23°C.
(FR) Cacao cru,  Beurre de cacao, Poudre de caroube, Poudre de lucuma, Noix de coco à la crème, Huile d'orange et de mandarine, *Sel de mer. Contient des sucres naturels. Solides de cacao 59% minimum. *Ingrédients non biologiques autorisés. Fabriqué dans une usine qui manipule des noix. Conserver dans un endroit frais et sombre, 16-23°C.
(ES) Cacao Crudo, Manteca de Cacao, Algarroba en Polv o, Lúcuma en Polvo, Crema de Coco, Aceite de Naranja y Mandarina, *Sal Marina.  Contiene azúcares que ocurren naturalmente. Sólidos de cacao 59% mínimo. *Ingredientes no orgánicos permitidos. Hecho en una fábrica que manipula nueces. Conservar en un lugar fresco y oscuro,16-23°C.


ALLERGY ADVICE & STORAGE
Made in a factory that handles nuts. Store in a cool, dark place, ideal storage temperature 16-13℃
| | | |
| --- | --- | --- |
| NUTRITIONAL INFORMATION | Per serving (1/2 bar) | Per 100g |
| Energy/الطاقة/Ενέργεια/Énergie/Energía | 420 kJ / 100 kcal | 2403 kJ / 574 kcal |
| Fat/الدهون/Λίπος/Gras/Grasas | 8.4 g | 48.0 g |
| of which Saturates/مشبعة/Εκ των οποίων κορεσμένα/Dont saturés/de las cuáles saturadas | 5.6 g | 32.2 g |
| Carbohydrate/الكربوهيدرات/Υδατάνθρακας/Glucide/Hidratos de carbono | 3.5 g | 19.9 g |
| of which Sugars/التي السكريات/Εκ των οποίων σάκχαρα/De sucre/De los cuáles azúcares | 2.4 g | 13.8 g |
| Protein/البروتين/Πρωτεΐνη/Protéine/Proteína | 1.2 g | 7 g |
| Fibre/الألياف/Ίνα/Faser/Fibra | 3.4 g | 19.3 g |
| Salt/ملح/Αλμυρού/Sel/el Sal | 0.05 g | 0.2 g |
*17.5g ½ bar (2 servings per pack)